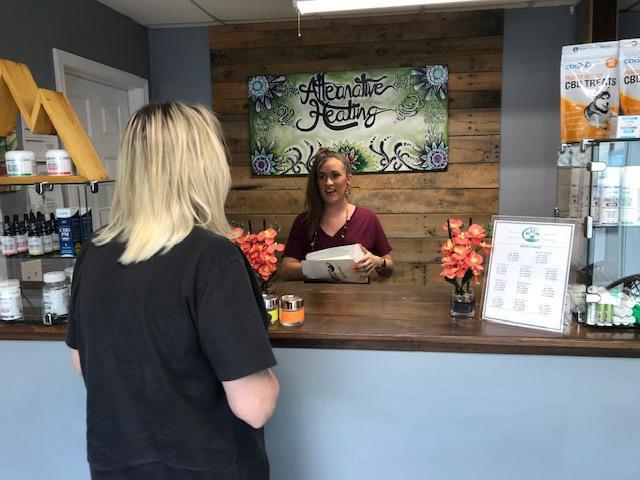 OCEANA – Although Megan Fox is relatively new to the business, she says she has already seen the benefits of CBD oil.
"I've gotten to know a lot of our customers and I can see first hand how it has helped them," Fox said. "I've seen it working so many times."
Fox works at Alternative Healing, a CBD dispensary in Oceana.
CBD (cannabidiol) is a phyto cannabinoid discovered in 1940. It is one of 113 identified cannabinoids in cannabis, which leads to several misconceptions about the oil that is sold in stores.
The most common is that CBD oil is marijuana, or that you can get high from the product.
It is a derivative of the hemp plant, but you can't get high from usage and you certainly can't overdose from usage. CBD oil contains less than 0.3 percent THC – the psychoactive ingredient in marijuana – making it legal to sell and consume.
CBD is a non-psychoactive cannabinoid, meaning you can't get high. The product instead has other positive effects on the physiology of the body and mind, according to its proponents.
"We have an analogy. It's like you have a red rose and a yellow rose," Fox said. "Both are the same flower, roses, but the formula in those flowers is different. Therefore, they are different as well. The formula in our products do not contain anything that will make you high."
In fact, all of the powers contained in CBD oil are healing, Fox said.
"It can be used for so many different things," Fox said. "It can be used for inflammation, chronic pain, seizures," Fox said. "Many people use it for stress and anxiety."
CBD oil, which is legal in all 50 states, officially lists the following benefits for the body: Pain and relief inflammation, helps fight cancer, relieves nausea, promotes cardiovascular health, lowers risk of diabetes, treats seizures, reduces acne.
It also has the following benefits for the mind: anxiety, depression, panic disorder, OCD, PTSD, neurological disorder such as schizophrenia.
And there are also many different types of CBD products in the store.
The gummies are a popular product in the store, as well as the salves and the gels.
Several people have used the salve on back pain and have given positive reviews.
Alternative Healing is fast approaching its September first-year anniversary in Oceana. Fox has been with the company since April.
"We are trying to educate people about the product, about what it can do for you," she said. "We are always available to answer questions. We get a lot of people who try the product coming back. They come back and become regular customers because the CBD oil works. We invite people to come in and give it a try.
The popularity of CBD oil, because of its natural healing powers, is a plus for the store, but Fox also said people should use caution.
"It is becoming a craze now, you have to be sure and purchase products at a certified dispensary. Not only are all our products tested, but we also have products tested so we know what it says is in them is what is in them."
As with any health supplement, people should check with their doctors and pharmacists to make sure there won't be any negative interaction between a new product and their existing medications and conditions.
The store also sells CBD oil for dogs.
The store is located across from the Summit Bank on Cook Parkway in Oceana, next to Wear 'Em Out.
Where the FDA stands
Cannabidiol-containing products are not currently regulated by the US Food and Drug Administration. The following is an excerpt from an article on the FDA's website written by Amy Abernethy, M.D., Ph.D., Principal Deputy Commissioner, and Lowell Schiller, J.D., Principal Associate Commissioner for Policy for the FDA:
"While we recognize the potential benefits of CBD, questions remain regarding its safety. During our review of the marketing application for Epidiolex (an FDA-approved prescription drug product to treat rare, severe forms of epilepsy), we identified certain safety risks, including the potential for liver injury. Furthermore, unsubstantiated therapeutic claims – such as claims that CBD products can treat serious diseases – can lead consumers to put off getting important medical care. Over the past several years, the Agency has issued several warning letters to firms that were marketing unapproved new drugs claiming to contain CBD, including for uses such as treating cancer or Alzheimer's disease. These products were not approved by the FDA for the diagnosis, cure, mitigation, treatment, or prevention of any disease. Consumers should beware of purchasing and using any such products. The FDA also tested the chemical content of cannabinoid compounds in some of the products, and many were found not to contain the levels of CBD they claimed to contain.
"The Agency understands the importance of communicating clearly with the public about our approach to CBD and is taking an Agency-wide, integrated, and collaborative approach to addressing the regulation of products made from CBD that fall under our jurisdiction. Through this work, the FDA is exploring potential pathways for various types of CBD products to be lawfully marketed. An important component of this work is obtaining and evaluating information to address outstanding questions related to the safety of CBD products that will inform the Agency's consideration of potential regulatory frameworks for CBD while maintaining the FDA's rigorous public health standards."
Read the entire article at www.fda.gov/news-events/fda-voices-perspectives-fda-leadership-and-experts/fda-committed-sound-science-based-policy-cbd.
Source: https://www.williamsondailynews.com/pih/pi_news/alternative-healing-opening-truths-of-cbd-oil/article_bc9afea7-3a93-5bc3-b4b3-627476bc47e0.html