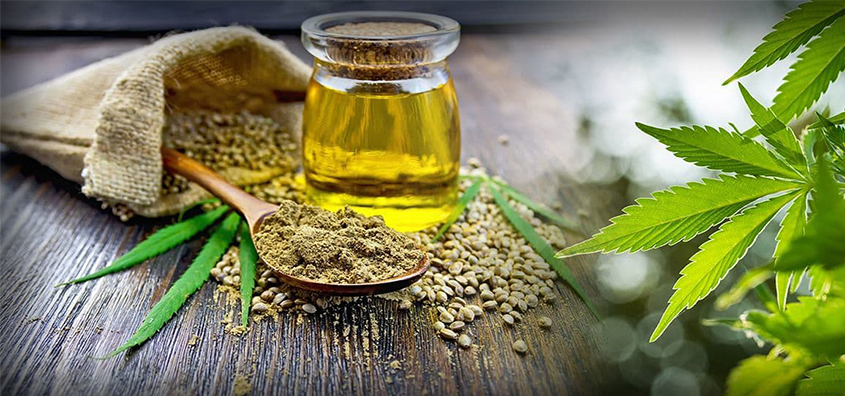 Fueled by Joe Biden heading to the White House, and an even higher likelihood of more potential legalization with Democrats in Congress, cannabis-related companies could see even better days ahead. Coupled with rapidly changing consumer attitudes and sizable consumer demand, even large retailers such as Neiman Marcus, Sephora, Vitamin Shoppe, Kroger, Barney's DSW, Sephora, CVS, American Eagle, and Walgreen's have started to carry CBD products. Going forward, analysts at Nielsen say CBD product sales could reach $6.9 billion by 2025. However, that may be a low estimate. Analysts at Cowen say sales could reach $16 billion by 2025 with health and wellness products leading the way.
Better yet, cannabis is seeing broader support. For example, a Pew Research Center survey found that 67% of the US supports legalization. In addition, a Gallup survey found that 66% of Americans are in favor of legalization. That's up from just 60% in 2016. On top of that, 14% of Americans now use CBD products. With the story gaining big momentum, some of the top companies to keep an eye on include HempFusion Wellness Inc. (TSX:CBD.U), Aphria Inc. (NASDAQ:APHA)(TSX:APHA), Canopy Growth Corporation (NASDAQ:CGC)(TSX:WEED), Tilray Inc. (NASDAQ:TLRY), and HEXO Corporation (NYSE:HEXO)(TSX:HEXO).
HempFusion Wellness Inc. (TSX:CBD.U) BREAKING NEWS: HempFusion Wellness Inc., a leading health and wellness CBD company utilizing the power of whole-food hemp nutrition, is pleased to announce that it has received USDA Organic Certification for its HempFusion CBD tinctures ranging in potency from 150mg (5mg per serving) to 1500mg (50mg per serving) of CBD per bottle, making HempFusion one of the first publicly traded CBD companies to achieve such distinction.
"Our team has worked meticulously to earn USDA Organic Certification, which supports our commitment to providing consumers with premium and differentiated CBD products as well as new potential distribution points," commented Jason Mitchell, N.D., HempFusion's Co-founder and Chief Executive Officer. "This prestigious certification joins our many other compliance markers, further establishing HempFusion as a leader in the premium CBD category."
HempFusion began the process to certify its tincture as USDA Organic in 2018, as organic products generally represent some of the highest quality and prestigious products on store shelves today.
USDA Organic certification is a rigorous process that involves detailed documentation for every step in the growth, production and manufacturing process, from what is in the soil and how the hemp is grown and extracted, to how the finished products are manufactured and bottled. At all times, the Company is required to demonstrate its ability to meet rigorous organic standards with respect to its CBD tinctures, including undergoing independent facility and documentation audits to both earn and maintain the right to use the USDA Organic seal.
"We've also expanded our tincture family to include two new SKUs catering to consumers who are looking for more CBD per serving. These new products offer 30 and 50mg of CBD per serving or 900 and 1500mg of CBD per bottle, respectively, providing an even wider variety of choices," commented Ola Lessard, HempFusion's Chief Marketing Officer, who also serves as President of the US Hemp Roundtable.
HempFusion's family of brands are available through approximately 4,000 retailers across all 50 states of the United States and select international locations and from the Company's website at HempFusion.com.
Other related developments from around the markets include:
Aphria Inc. (NASDAQ:APHA)(TSX:APHA), a leading global cannabis company inspiring and empowering the worldwide community to live their very best life, will release financial results for its second quarter and six-months ended November 30, 2020 on January 14, 2021. Aphria executives will host a conference call to discuss these results at 9:00 am Eastern Time. To listen to the live call, dial (888) 231-8191 from Canada and the U.S. or (647) 427-7450 from International locations.
Canopy Growth Corporation (NASDAQ:CGC)(TSX:WEED) announced that it has entered into an arrangement agreement with its wholly-owned subsidiary The Tweed Tree Lot Inc.,Canopy Rivers Inc. and its wholly-owned subsidiary Canopy Rivers Corporation pursuant to which Canopy Growth will acquire certain assets from CRC, as set out below, in exchange for cash, common shares in the capital of Canopy Growth and the surrender of all shares in the capital of Canopy Rivers held by Canopy Growth by way of a plan of arrangement under the Business Corporations Act (Ontario). "Canopy Rivers was established in 2017 as a strategic investment vehicle for Canopy Growth, helping us pursue key business opportunities including development of the Vert Mirabel greenhouse which today is a very important component of our Canadian cannabis operations," said David Klein, CEO, Canopy Growth. "With our new strategy in place, it is appropriate for us to divest our interest in Canopy Rivers to increase our focus as a company."
Tilray Inc. (NASDAQ:TLRY), a leading company in the manufacture, research and distribution of medical cannabis, announced that it has entered into a co-promotion agreement with Hormosan for its full-spectrum cannabis extracts in Germany effective 1 January 2021. Hormosan is primarily focused on pain therapy and neurology and is part of the Lupin Group, an international entity that sells innovative drugs and generics. Hormosan will support Tilray in its marketing and sales activities of full spectrum cannabis extract in Germany. Through this strategic partnership, the expertise of both Tilray and Hormosan will be leveraged to expand Tilray's presence in the German market. Tilray launched its full-spectrum cannabis extracts in October 2017 and last expanded the range in May 2020. The range includes an extract with a balanced THC-CBD ratio, a CBD-dominant extract with a low THC content and a pure THC full-spectrum extract. According to the legal regulation, the use of cannabis full-spectrum extracts is not restricted to a specific indication, but the treating doctor decides at their own discretion whether a treatment is suitable. The Tilray extracts are used for chronic pain, spasticity, sleep disorders and a variety of other indications.
HEXO Corporation (NYSE:HEXO)(TSX:HEXO) announced that Sebastien St. Louis, Chief Executive Officer, and Trent MacDonald, Chief Financial Officer, will present at the 2021 Annual ICR Conference on Wednesday, January 13, 2021 at 3:30 p.m. ET. Participants may access the live webcast under the "Investors" tab, at "Events", of the HEXO Corp. website.
Legal Disclaimer / Except for the historical information presented herein, matters discussed in this article contains forward-looking statements that are subject to certain risks and uncertainties that could cause actual results to differ materially from any future results, performance or achievements expressed or implied by such statements. Winning Media is not registered with any financial or securities regulatory authority and does not provide nor claims to provide investment advice or recommendations to readers of this release. For making specific investment decisions, readers should seek their own advice. HempFusion Wellness Inc. has paid three thousand five hundred dollars for advertising and marketing services to be distributed by Winning Media. Winning Media is only compensated for its services in the form of cash-based compensation. Winning Media owns ZERO shares of HempFusion Wellness Inc.
Please click here for full disclaimer.
Contact Information:
2818047972
[email protected]
Source: https://www.baystreet.ca/stockstowatch/9496/With-Growing-Demand-the-CBD-Market-Could-be-Worth-16-Billion-by-2025